Whether you're moving into a new house and don't have time to cook, or you're a busy athlete that needs top-notch nutrition, there are lots of meal delivery and subscription services that can save you loads of time. Here are some of our favorites.
Health is wealth, especially for athletes who make a living out of their physical abilities. As an athlete, nutrition is a major role player in your lifestyle. However, tight schedules and heavy training sessions often get in the way of a wholesome diet. You might have little time to cook, or you're too tired to prepare healthy meals.
If you're having trouble keeping up with food choices, signing up for a meal delivery subscription can be a game-changer. With weekly food deliveries, you'll be able to spare more time for training while still consuming food loaded with nutrients to help you recharge.
That said, here are the five best meal delivery services you should consider:
1. Trifecta
Trifecta's primary focus is to provide delicious but healthy meals based on science-driven facts. You can choose between keto, vegan, paleo, and three other meal plans. They even in-house a professional chef to make sure that ingredients are freshly cooked before it arrives at your place. Plus, menus rotate every week, so your palate doesn't get bored from the same tastes.
Prices typically start at $109.00 per delivery. A La Carte option is also available starting at $6.00 per meal. The food is vacuum-sealed and comes in an insulated box to keep things chilled in transit. Deliveries are typically once a week. If you're looking for something that tastes like home cooking after a few minutes of heating, Trifecta is the way to go.
2. Pete's Paleo
As an athlete, you probably care about nutrition more than anything. But with Pete's Paleo, the flavor comes as a bonus! Started by a chef trained at Le Cordon Bleu, this subscription food delivery service offers nutrient-packed, ready-to-eat paleo meals. Pete's provides you with a variety of plans to meet your diet needs.
You can get 5 meals for $79.00 or 14 meals for $196.00. Need to feed your kids as well? Say no more with Pete's family plan that serves 5 meals with 4 servings each for $280.00! You can request some extra protein for bulking up, but for an added cost, of course. The best thing about Pete's Paleo is that the meals are delivered fresh, not frozen. Savor the same healthy diet that our cavemen ancestors enjoyed for centuries!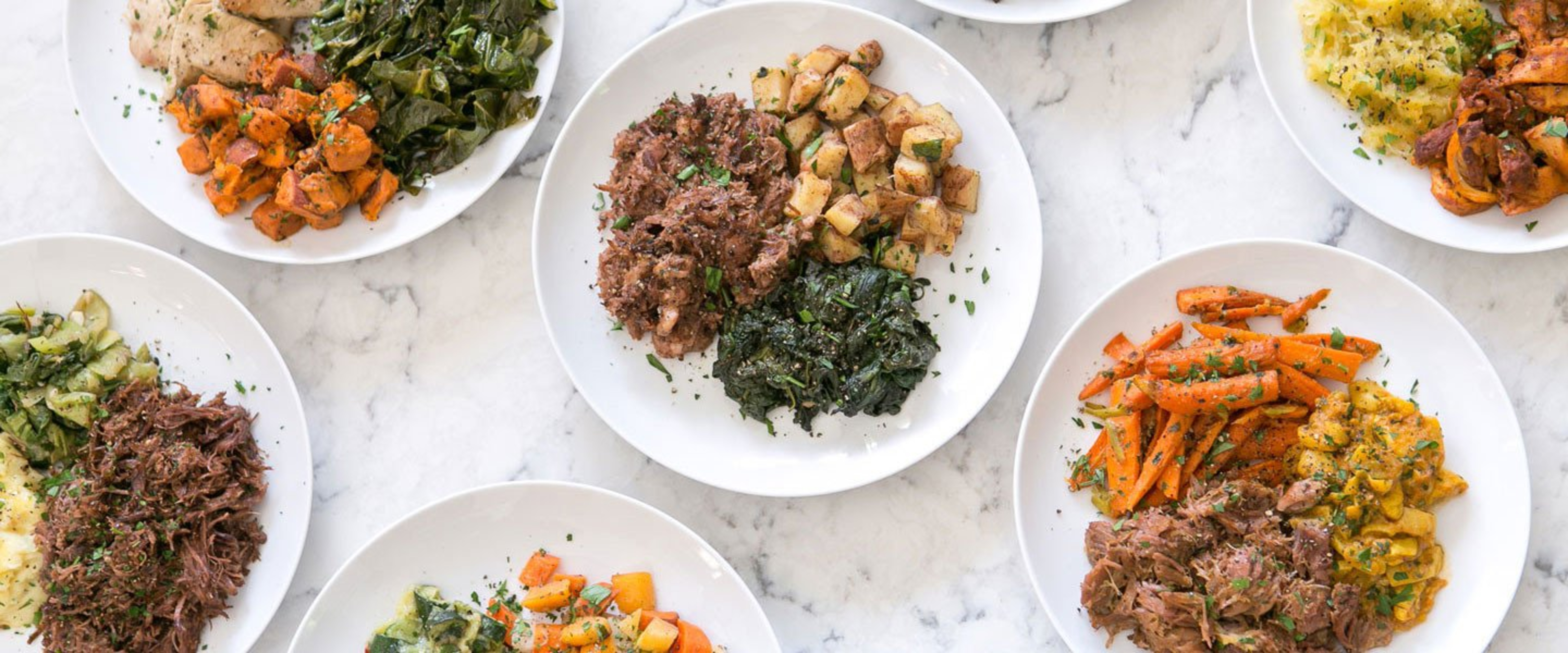 3. Freshly
When talking about consistency and flavor, it's not hard to find reviews of Freshly. The main clincher here is that the more you order, the less each meal will cost. So if you're looking for a healthy way to save money, this is the deal for you.
To give you an idea, a 4-meal week plan costs $46.00, which is around $11.50 per serving. Now, if you go for 12 meals per week, each serving only costs $7.99 for a total of $95.88! How tempting is that? Most of these meals are bursting with protein, gluten-free, and contain 400-600 calories, enough to meet your energy needs. Food is freshly prepared (of course!) and you can expect them to arrive from Sunday to Saturday depending on your delivery area.
4. Snap Kitchen
If you're searching for a delivery service that provides a versatile selection of healthy goodies, it might be worth taking a look at Snap Kitchen's menus. Delicious lunch choices, like barbacoa with veggies with no artificial additives, are immediate bestsellers for athletes. You can even grab a snack of coconut bites! And the good news? All these come at reasonable prices.
Snap Kitchen wants to make life simple for customers, so they only offer two basic meal plans. A 6-meal plan costs $11.67 per meal or $69.99 per box. The 12-meal plan costs $9.58 per meal or $114.99 per box. On top of that, shipping is free.
No need to stress yourself with cooking when your delivery arrives. Just take the packages out of the box and send them straight to your microwave for 3 minutes. Enjoy!
5. Butcher Box
If you're an athlete who loves to cook, pre-made meals aren't meant for you. So if you want to train while still keeping your cooking skills sharp, try to give Butcher Box a shot. Instead of freshly cooked food, they deliver you fresh raw beef, chicken, and pork meat.
The classic box costs $149.00 contains 9-14 lbs. of meat. If you want more protein, grab hold of the big box with a bountiful 18-26 lbs. of meat for $270.00!
Butcher Box knows you're concerned regarding the quality of meat. That's why they made sure to let their cattle graze freely in vast pastures. No antibiotics or hormones! The same goes for free-range birds that live by foraging on open fields.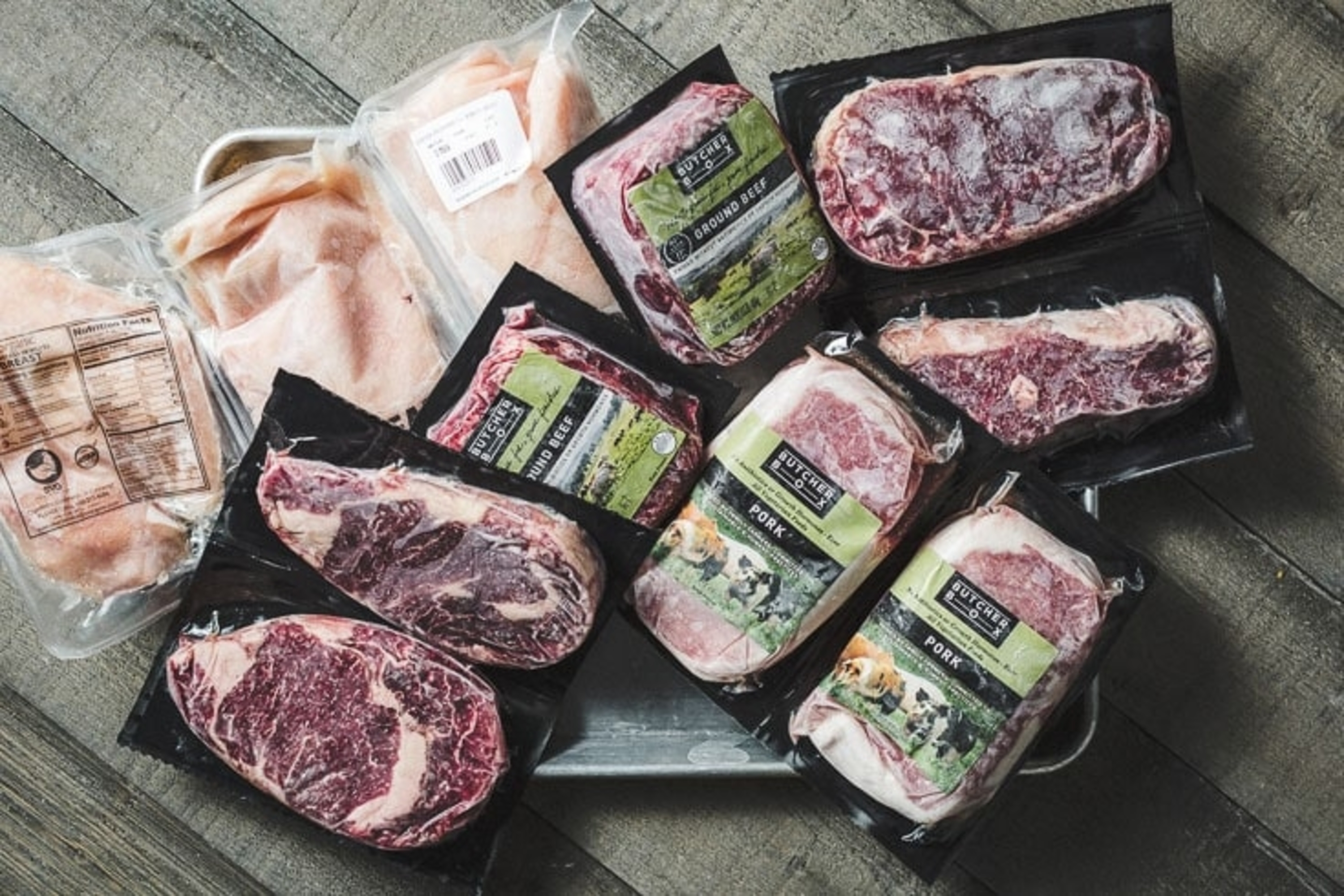 Are Meal Subscriptions Worth The Money?
If you're an average person with plenty of time in your hands, then no. It's not. But if you're an athlete looking to get the most out of nutrition and training, then definitely. Yes!